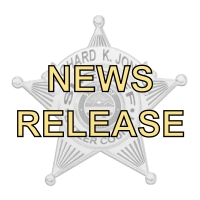 For Immediate Release
September 8, 2015
Meth Lab Discovered After Suspect Calls 9-1-1
Butler County Sheriff Richard K. Jones reports that during the afternoon of September 5th, Deputies of the Butler County Sheriff's Office along with BURN (Butler County Regional Narcotics) Taskforce located a meth lab in the 1700 block of Morman Road, Hanover Township.
"Someone called 9-1-1 from the residence and laid the phone down. The dispatcher tried to get someone's attention with no success so she sent them a text message to let them know they had an open line.  A second call came in from the residence indicating that there was an emergency and to send help. The only 'emergency' we saw was the meth lab," said Sergeant Owens.
Joshua Angelo and Robby Brewer, 22-year-old males, were both arrested and charged with production of methamphetamine and assembly of chemicals, both felony charges.
Deputies also located numerous prescription drugs, additional contraband, and meth related chemicals at the residence.
"It makes our job easy when the bad guys call us to stop their illegal business. Unfortunately for them, it did not keep them out of jail. Great job by BURN and the road patrol locating this quick before it could cause harm," said Sheriff Jones.
Charges have been filed through the Butler County Prosecutors Office.
Prepared by: Sgt. Melissa Gerhardt
Public Information Officer