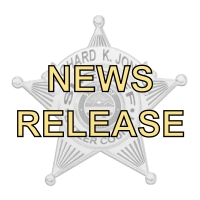 For Immediate Release
October 2, 2015
Most Wanted Arrest for Aggravated Burglary is Illegal Alien
Butler County Sheriff Richard K. Jones says after his updated most wanted poster went out this week, an anonymous tip came in on the whereabouts of Ismael Rey Saldana-Biurquiz.  Mr. Saldana-Biurquiz was wanted for Aggravated Burglary, a felony of the first degree, and intimidation of a witness, a felony of the 3rd degree, by the City of Hamilton. Upon his arrest, it was found that he is here illegally. The Butler County Sheriff's Investigations and Warrants units worked diligently for three days to track him down. "Due to his past history, I am glad he was apprehended without anyone getting hurt," said Sergeant Rob Whitlock.
Sheriff Jones said this is one of th
e many reasons he is not seeking a seat in Congress at this time. "He is extremely dangerous and has been on the run since 2006. Anyone that will break into a home while people are present is a very brazen, careless individual.  He is also accused of threatening to kill someone who was set to testify against him.  He is here illegally and is serving no great purpose in our country.  This is another example of what I have said from the beginning.  Now, if he is convicted and stays here, the citizens of this country get to pay to feed him. I don't think that is fair at all and I believe the American people are tired of it.  I am very proud of the hard work of my staff to get him off the street," Sheriff Jones said.
The Sheriff continues his stance on illegal immigration and will continue to push the envelope and demand changes. The case is being handled by the Hamilton Police Department and the Butler County Prosecutor's Office. The Sheriff encourages tips and phone calls to the Butler County Sheriff's Office to report any illegal activity and any information about illegal immigrants.
Related Links
BCSO's Most Wanted
Submit Anonymous Crime Tips