For Immediate Release
January 30, 2015
Two Search Warrants Result In Several Arrests And Drug Seizures
Sheriff Richard K. Jones reports that a six month long drug investigation began with a tip and ended yesterday after 2 search warrants and multiple arrests.  B.U.R.N. (Butler County Undercover Regional Narcotics) task force executed the first search warrant at 824 Gordon Smith Boulevard #1 in the City of Hamilton.  Erica Buchanan, a 28 year old female, was charged with trafficking and possession of drugs, both felonies.  She also had an outstanding warrant from the City of Hamilton for a probation violation.  Eduardo Vela, a 23 year old male, was charged with having weapons under disability, a felony of the 3rd degree.  Mr. Vela also had an outstanding warrant for probation violation through the City of Hamilton.  During the search, ag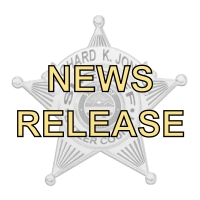 ents confiscated a pistol, numerous pharmaceuticals, drug paraphernalia and more than 5 grams of heroin.
The second search warrant was executed at 872 Gordon Smith Boulevard #1, where agents made one arrest and confiscated more than 10 grams of cocaine, drug paraphernalia and approximately $700 cash.  James Abner, a 35 year old male, was charged with trafficking drugs and possession of cocaine, a felony of the 5th degree.
"And yet it continues," said Sheriff Jones.  "I have agents working around the clock to stay on top of this issue and it keeps working in my favor.  These agents continue to impress me with their quick action and dedication on getting these criminals and their illegal drugs off the Butler County streets.  Keep those tips coming in, and we will keep arresting these people and end their illegal drug business."
All three subjects were placed in the Butler County Jail.  The case is still under investigation and more charges are pending.